Victor Ehikhamenor


This digression is necessary. Lagos is a ramble, the rambunctious panther in a Nigerian jungle, but wild cats suckle first, and each ramble has an initial statement. Mine is: on my first evening in Lagos after I completed my studies, I arrived from Umuahia to attend a job interview, an administrative role in an arts organization. In the weeks that followed, I'd learn how unprepared I was to make a living from everything besides my degrees as a lawyer. But first I think of the air that night. Not so much the lights. Not so much that I could breathe easily. It was rather the realization that if I were blown away it must be in a whirlpool of my own making. Anyone who has left family in a small town to make life in a big city can attest to this. Such as him.

He was mentioned to me for the first time at the Center for Contemporary Art. The curator I assisted wanted me to help draft a proposal for an exhibition to be funded, and the scheme was to be targeted at one of the oil companies. Could I see if his artworks had anything to do with environmental justice?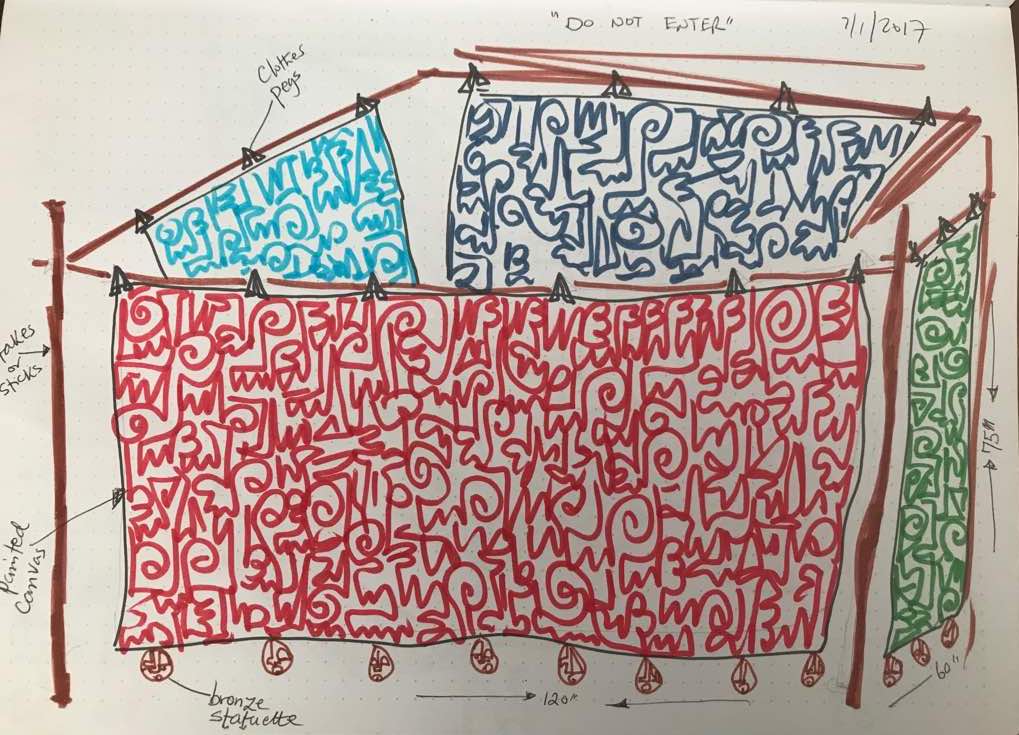 Nothing came of that proposal; I do not recall if I even drafted it. But each unsteady step of those early weeks was fortuitous. A few years later I wrote an essay on his work at a Biennale in Indonesia. At the farthest end of a 20×10 room, three drums hung suspended above a tub: two red drums painted over with black, placed on either side of a middle drum, painted white. The tub below the drums was full of water. Black liquid from the middle drum dripped into the tub, pooling around a submerged and illuminated word: Oloibiri, the site of Nigeria's first commercial oilfield. The letters were carved sharply on a glassy rectangular surface, lit from the bottom, giving off reddish glow.

Before that I lied to him. I now worked with him, managing projects at a branding company he co-owned. We spoke about his work often, and sometimes he nudged me to write press statements, short considerations of his work. On one such occasion his new work was the subject of an exhibition at an upscale lifestyle store in Victoria Island. Days after the opening he asked me why I had been absent. I muttered an excuse about an uncle's illness. In fact I'd had no money to pay the transport fare.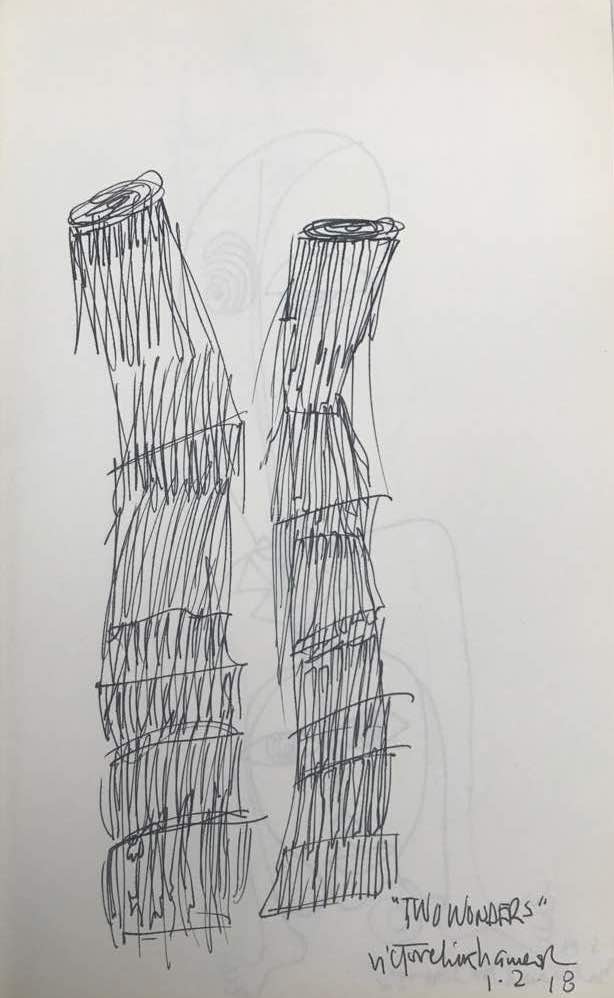 When he reads this he'll learn of my duplicitous statement for the first time, and I imagine his face would fold in agitated surprise. I have no idea whether this would be a matter of regret that I hadn't confided in him about my financial difficulties, or a matter of gratitude that the circumstances of my life are improved. His next response will be a little laugh.

He is older than me by almost two decades. I could be daunted by the chasm age has cleaved between us. Or consider the worth of my life's experience nonpareil to his. Instead I choose to articulate how for almost a decade I have been his minor disciple.

There's evidence of that. Besides my writing on Invisible Borders, the trans-African organization I worked and traveled with for five years, I have published more essays on him than on any other artist. The earliest essay is an impressionistic web of the theory I'd been reading in graduate school that year, and the latest is a pared-down review that begins with a folktale. Despite my skepticism I see a marked improvement in my style. And my self-image notwithstanding, I can state for sure that his work has taught me how to look at art. His restless tinkering with form, the polychromatic surfaces of his paintings, and his consistent output, combine to make my devotion near total.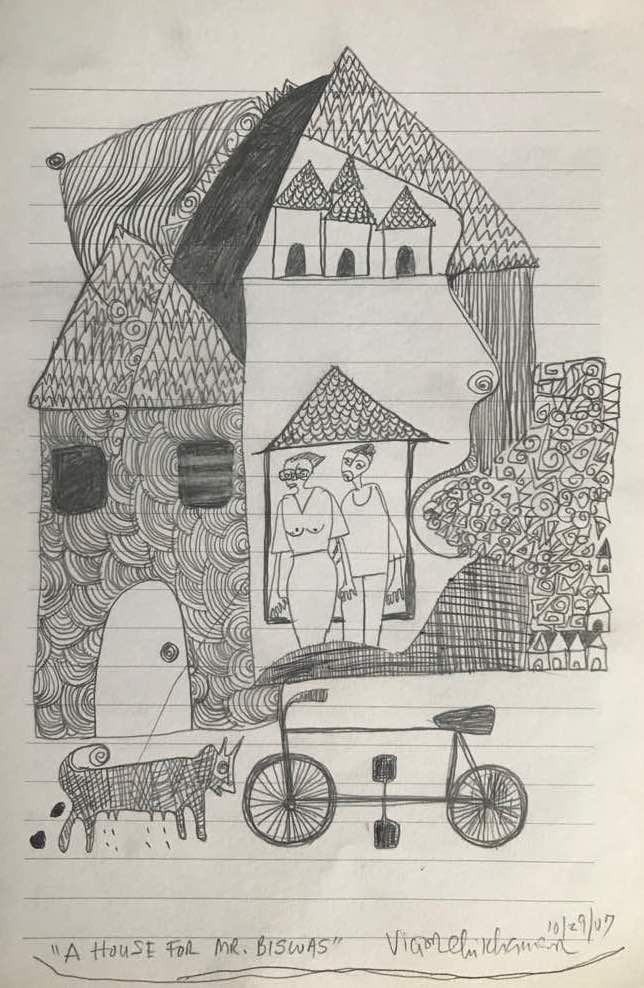 Note that he hadn't trained professionally as an artist. He holds a bachelor's degree in English and Literature, and a masters of fine arts in Creative Writing. This makes me suspect that his addressee is language, and his intention is to make secret alphabets, hieroglyphs that originate in Midwestern Nigeria. If I could spare hours and hours to draw I might be able to tell one character from the other. That's unlikely, but I am able to understand his masterstrokes better. Besides age, another chasm is language; in order to feel as though I am saying anything noteworthy when I write about his work—especially because of our friendship—I have to imagine each sentiment I express as a hapax legomenon, a word used only once, created for that occasion.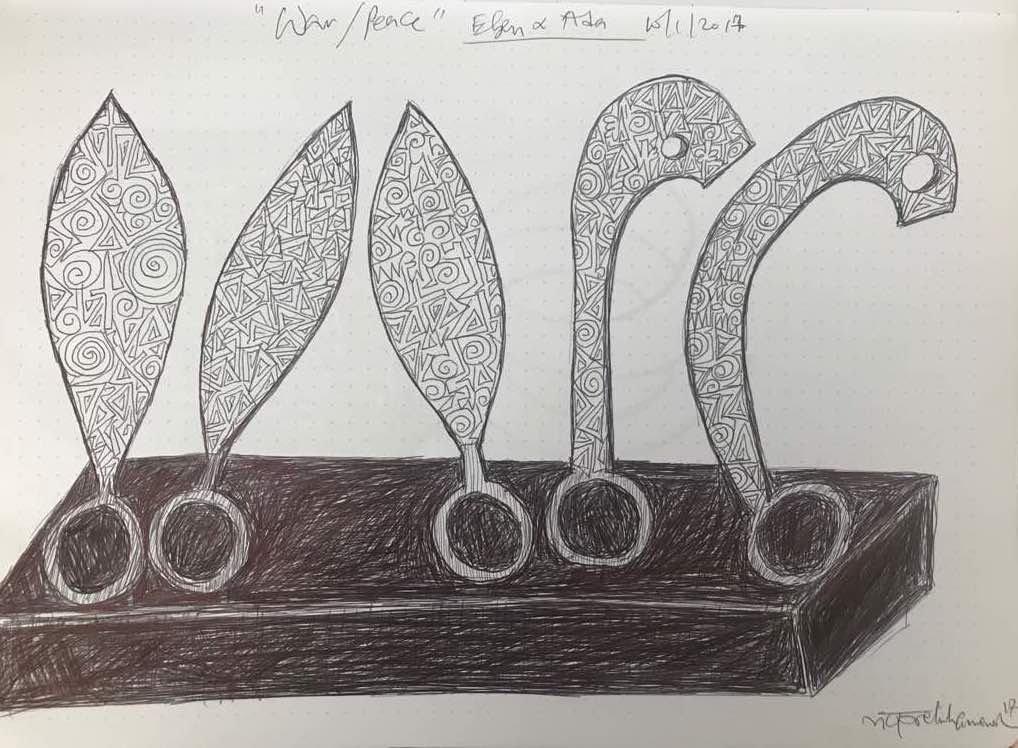 The final rift exists in the zone between man and man, ambition and ambition. I sometimes feel I am unable to communicate the dilemma of my professional life as a writer interested in the world of images but hesitant to participate in the art world. In a dissimilar vein, despite our regular chats about his hopes and works-in-progress, and the potentials for our collaboration, what is the possibility that our individual paths will branch apart, one less in need of the other? When I think in this way I tend to feel sad. Yet "need" is a suspect word. To describe our many plans I study the patterns made by a flock of migrating hoopoes. One might perch before the other, but all have undertaken the same journey.

And the story of any success is a complex, tangled plot. By certain standards he is one of the most well-known artists working in Nigeria today. By what standards? I have a sense of how much his paintings cost, how expensive it is for him to rent a studio of that size in Ikoyi, and the roster of esteemed visitors to his studio. All that would count for something if I were to calculate his net worth. But how would the next decade of his life fulfill all the nonmaterial demands he makes for himself?





To be blown away in a whirlpool of one's making, such a bleak thought. I doubt he'll agree with a portentous metaphor to describe his time in Lagos. In fact I know he won't. One reason is religious: being Christian he accepts that a lifebuoy would always be thrown in the midst of life's troubled waters. One more reason is his craftsman flair—the many surfaces and objects he has drawn on, molded and contoured, painted upon, and sewn into shape. This exuberance could make him a "multidisciplinary artist," but something of his faith in the extent of his abilities eludes definition. If that isn't hope, the world is beyond repair. ︎




︎


All drawings courtesy the artist.

For lengthier considerations of Victor Ehikhamenor's work, I suggest three other essays I have written: "The Wealth of Nations," "Making Time," and "The Work of Time."

Cover Image: Detail of I am Ogiso, the King from Heaven, 2017. Rosary beads on lace textile. Copyright the artist & Tyburn Gallery.

June 2018








---
A Sum of Encounters is a year-long blog by Emmanuel Iduma featuring intimate portraits of Nigerian artists based in Nigeria or the United States. With support from the Creative Capital | Andy Warhol Foundation Arts Writers Grant Program.